I recently renoved my studio and I'm so excited to share the updated photos! The square footage has doubled, and now I have the space for multiple setups, allowing me to move quickly during sessions to get as much variety as possible. The studio is filled with amenities for newborn and baby sessions to ensure the comfort of families in the studio.
The entrance/waiting area is furnished with a comfortable sofa for relaxing, nursing babies, or playing with older siblings during newborn sessions. The bookshelf is filled with studio samples and has some children's books as well. The vintage cameras were my grandparents' and I love seeing them when I walk into the studio!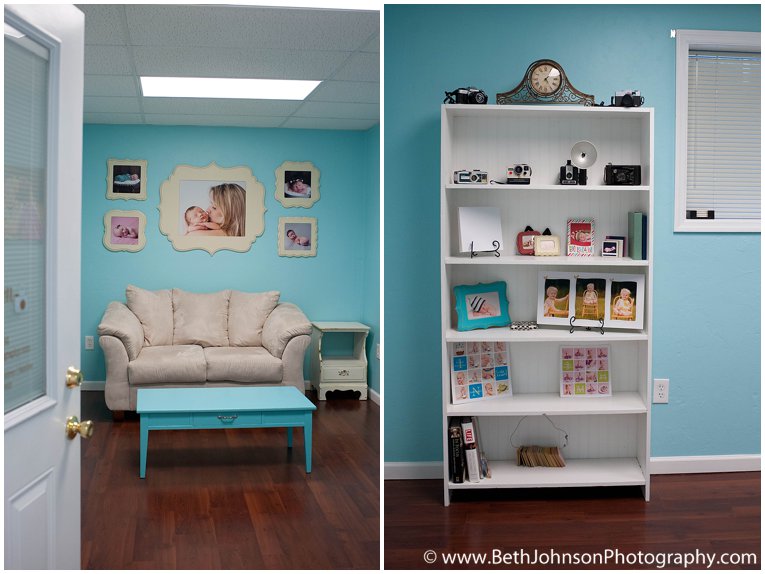 This area of the studio has a variety of different colored studio backdrops, which are perfect for babies and children. The other side of this room has a 10 foot wide neutral backdrop that I use for families.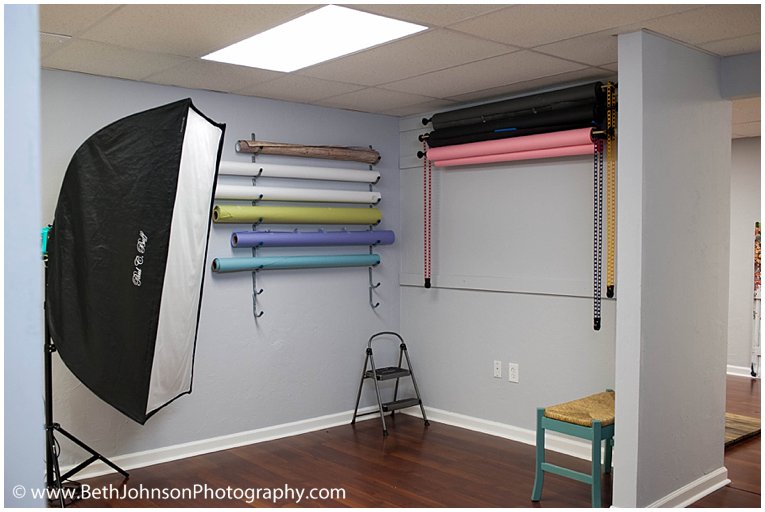 This area is where I photograph my newborn sessions. The 5 foot wide beanbag in the back is the perfect space to pose babies, and the wood backdrop you see at the front edge of the photo is where I do many of my prop setups with newborns and babies.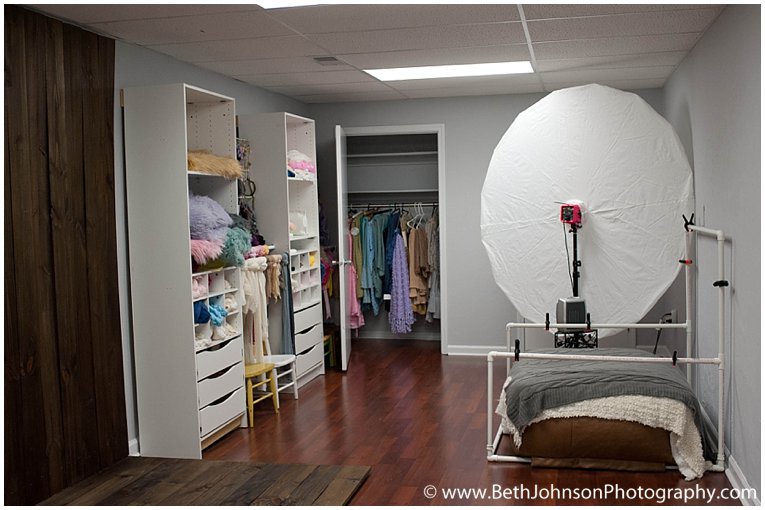 As you can see, the studio is not lacking on props! These are just some of my wraps, headbands, hats, fur rugs, basket stuffers, maternity gowns, and newborn outfits.



This is the other side of the room where I pose newborns. The futon is positioned so parents can relax and watch as I pose their little one.



To the right of the futon area is a changing table, which is stocked with baby wipes and nursing pads, along with spare receiving blankets, hand sanitizer, and a Boppy.



Older siblings often sit at the kitchen table to eat a snack or color. I have a drawer full of coloring books and crayons! The kitchen also has a microwave and a fridge stocked with bottled water. The right photo is the prop area in the studio; this isn't even half of the baskets, trays, newborn sized beds, baby sized chairs, and more. As you can see, parents don't need to bring anything with them for their newborn session except for the baby and milk!



Lastly, I have a small kids play area. It is just to the right of the futon, so often parents that need to bring an older sibling to the newborn session will let them play in that room and they can easily keep an eye on both the newborn and toddler at the same time. The play area is also a fun reward for older babies and kids who love to check it out and play for a couple minutes after their session!



Thank you so much for checking out the studio tour! If you are interested in a session, please contact me via the link in the contact bar above. I'd love to photograph your session!
Save
Save