Photography is one of the fastest growing industries, and there are hundreds, if not thousands, of local photographers in this area. While it's wonderful to have so many options to choose from, it can be overwhelming and stressful when it comes time to choose the photographer who will be capturing once in a lifetime memories!
There are a few things to think about when choosing your newborn photographer:
Studio vs. In Home Photographer:
Some photographers go the client's home for newborn sessions, and while not having to leave your house may sound appealing, I think having a studio location is a huge advantage for newborn photography. Having a studio location (in midtown Tallahassee) allows me to have the studio setup and ready to go before you arrive, maximizing the session time for each client. It allows me to provide a huge variety of props and backdrops! I'd never be able to lug my whole prop collection along for each in home session. Studio sessions also take less time; because I have dedicated setups ready to go, we are able to move quickly and get more variety. And lastly, studio sessions allow me to have ideal lighting for every image, an option that usually isn't possible in client's homes.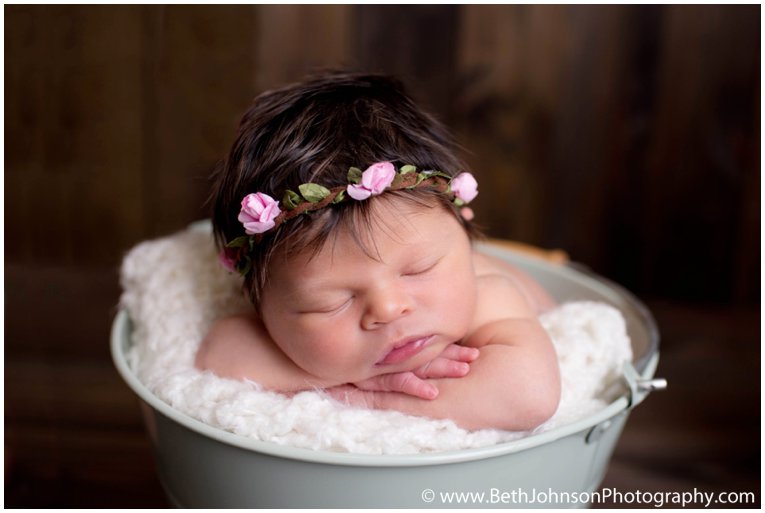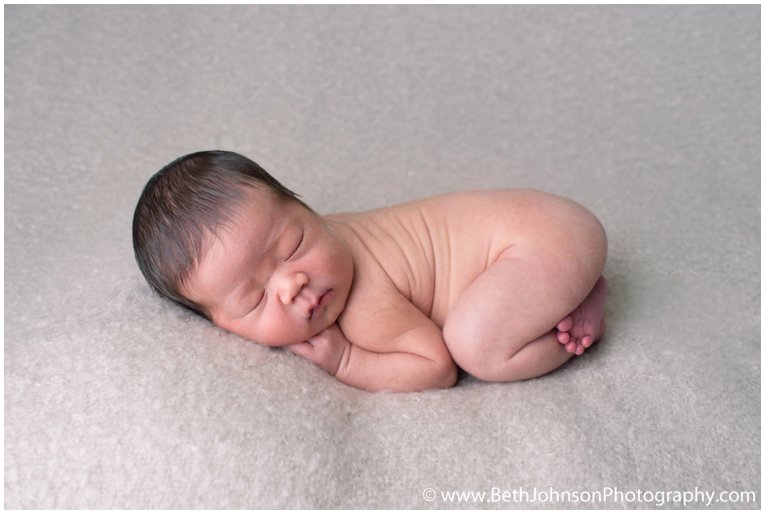 Level of Experience:
The photographer you choose should be trained in newborn posing and safety. I have taken in person workshops and online classes from the best newborn photographers in the world. In addition to classes on newborn posing, I've taken newborn safety courses to ensure that every setup we do is safe for your child. I have a spotter present for every prop setup, and do quite a few composite images during each session. (Composites are two images merged together, so hands can stay on the baby at all times.) I've specialized in newborns since 2010 and photographed hundreds of babies since then, so you can be assured that your baby is in good hands!



Portfolio:
The newborn photographer you choose should have a varied portfolio, including images of babies posed on blankets, in props, and with their families. The babies should be relaxed and comfortable in every pose and setup. Babies should have relaxed hands, not clenched fists. They should have calm, peaceful expressions, and their faces should be clearly visible and not burrowed into a blanket. Skin tone should be even and not blotchy. The portfolio should include a wide variety of setups, all with a consistent style, and the baby, not the prop or accessory should be the focus of every image. Not to say that props and accessories shouldn't be used — they should! But you want your sweet baby's face to be the focus of the image and not a giant flower headband as big as her head or a dinosaur outfit bigger than your baby is.







Photography Specialty:
Does your photographer specialize in newborns, or are they more of a jack-of-all-trades in photography? Newborn photography is a whole different ballgame from weddings and events or even family portraits. Posing takes lots and lots of practice, experience, (and patience!) to do it safely. Make sure your photographer either specializes in newborns or has taken the time to learn the craft so they can provide you with beautiful photographs of your little one. Babies grow so quickly and by the time you view the photos from your session, it's usually too late to re-take them. Newborns are photographed in the first week or two after birth, so it's important to get the photos right the first time!
Other things to consider:
Your photographer should be vaccinated against whooping cough/pertussis and receive the flu shot every year. (I am!)
Your photographer should be running a legal business, paying taxes, and most importantly, licensed and insured. (I am!)
Does your photographer include digital files or only sell prints? Or do they have a hybrid business model, offering both options to clients? (I do both!)
On the off chance something should break, does your photographer have professional grade backup cameras, lenses, and studio lighting (if applicable)? (Yes!)
Does your photographer offer other types of sessions to grow with your family? (Yes!) I photograph maternity sessions, newborns (of course!), baby milestones during the baby's first year, and most families come back every year or two for updated family portraits. I love to build relationships with my clients and watch their babies grow. The best compliment I get is when clients choose to come back again and again!
There are a lot of talented photographers in our area, but just a handful who truly specialize in newborns. I encourage you to look into several photographers before making your decision. You want to feel confident you made the right choice. You should LOVE the style of their work, feel confident in their abilities, and know your baby is in excellent hands!
If you are interested in booking your newborn session with Beth Johnson Photography, click the contact tab in the menu bar above to send me an email and inquire about availability. I would be honored to photograph your new baby!
Save
Save
Save
Save
Save
Save
Save