Almost every session, I get asked the same question. "What should we wear for our photos?" It's hard to decide; I get it! I have a hard time finding outfits for my family when we have photos done, too. I wanted to put together a guide of suggestions to help you when you are shopping for your session, because there are certain colors, textures, and styles that photograph better than others. There are lots of tips, suggestions, things to avoid, and examples below, but keep in mind, I'm always available to consult and help you plan your wardrobe prior to the session! Many clients text me photos of their outfits and ask for suggestions on which pieces will photograph best, or what they should add in to tie everything together. I'm always happy to help!
Some tips to keep in mind:
It looks great when families take time to coordinate their outfits to show a mix of styles that look beautiful together for their session! I personally think coordinating outfits look better together than matching outfits, and really show off each individual's personality.
Layers and accessories add to any outfit! A simple neutral dress or top with a statement necklace looks great. Cardigans/blazers/vests can be a fun winter accessory and add interest the the outfit. Hats and belts can be really cute and fun as well! Suspenders and a bow tie on little boys are adorable, and pretty hairbows are so sweet on little girls. Speaking of bows, less is more! A small dainty headband can look beautiful and add to the child's outfit, but a large flower the size of their head is distracting and uncomfortable. Plus, you want the viewer to be looking at your little cutie's face and not distracted by their giant bow.
Think about your best asset and accentuate it. For me, I'm not a fan of my stomach. Two babies and lots of late nights up editing and eating snacks means I'm not wearing anything that accentuates that area. When I choose outfits for myself, I look for empire waist dresses that accentuate my upper body and legs and hide my tummy. An empire waist top, skinny jeans, and boots would be a good choice for a fall outfit.
Make sure to choose clothing that fits well and is comfortable. If you're uncomfortable in what you're wearing, it shows in the photos! You don't want to be self-consciously tugging on the hem of a too-short dress or have your little one complaining because his pants are too tight. Clothing that's too big isn't ideal, either, since it bunches up and looks sloppy. Well fitting clothing really is the most flattering! And if you're like me and can barely walk in heels, choose flat sandals or wedges for the photos (or at least bring a pair to wear in between photos!)
Things to avoid:
Avoid writing on clothing. It's distracting (do you want the viewer to look at your faces and connection or be squinting trying to read your shirt?) and as you move, the clothing wrinkles and makes reading it difficult anyway.
Avoid big logos and graphics. You want your photos to be timeless and classic, and while your baby girl loves Elsa right now, she may be into something else in 6 months, and that Elsa tee in your photo will look dated before you know it.
Avoid neon and fluorescent colors. Not only is it distracting in photos, but these colors can throw a color cast onto your skin and hair. Neutrals (beige, tan, cream, light grey) and versions of primary colors (blue (navy), red (maroon), yellow (mustard) look great, as do jewel tones (emerald, amethyst, garnet, etc.) A mix of neutrals and primaries or neutrals and jewel tones always looks great!
Don't base your color scheme around dark green shades if your photos are going to be outdoors. Green accents and touches of green along with other colors is great, but too much green clothing on a backdrop of green grass and trees just doesn't pop.
Now you know what to avoid, but how do you get started?
Option 1: Pick two or three colors you love, and search for pieces that fit into your color scheme.
Option 2: Don't pick a color scheme yet. Search for a piece you LOVE that you feel great in, and work the rest of the family's outfits around that one piece. I usually recommend starting with mom's outfit, because let's be honest. Men have it easy! A nice polo shirt or collared shirt in a coordinating color, some jeans or nice pants, and they're finished! And kids look cute in everything! Once you find the perfect outfit for mom, the rest of the family's outfits fall into place easily. If you find a great dress or top with a simple pattern, pull colors from the dress pattern and look for clothing for the other family members. If you go with a solid dress or top, you can then decide what colors coordinate well and go from there. And keep an eye out for cute accessories that tie everything together. A statement necklace, scarf, cardigan or blazer can look really cute and add some more color to your family's outfits.
Neutrals and soft colors always coordinate well together, and the beige, mossy greens, and blues look great with the fall colors here: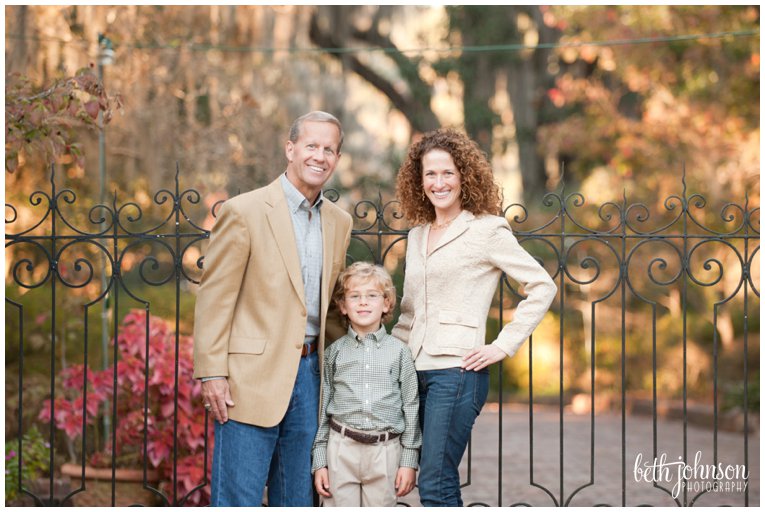 Tans or cream and blues photograph well together, too: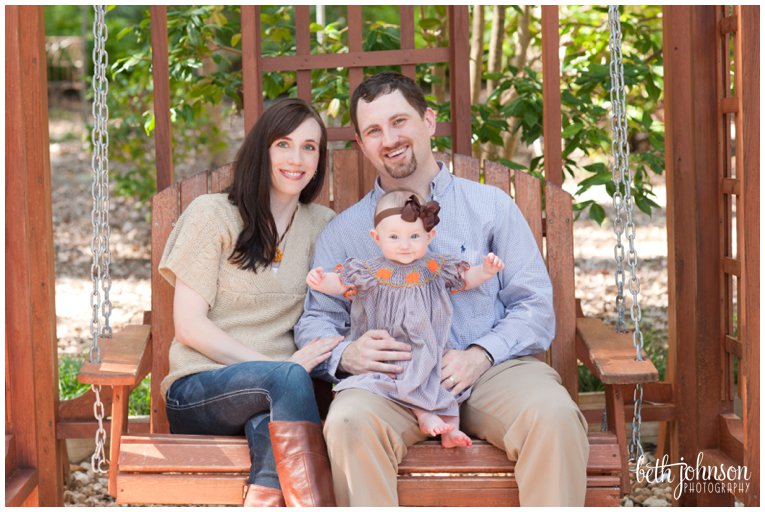 This session was at my studio, but the blue and beige color scheme would look great outside as well.
This family started with two basic colors (brown and cream) and added a fun pop of color with the oldest daughter's purple skirt.



Not a fan of neutrals? Reds and blues are a popular color combination right now. They are classic and look good on everyone!
If you do want to choose just one color, make sure to choose pieces that have different styles and textures so they don't blend together in photos. This couple looks great in pale yellow, and the pretty lace and pleats in her dress stand out, even when she's next to her husband in the same color.



These cute sisters are all in cream, but one is in jeans, one is in a long sleeved dress with bare legs and the other one has short sleeves and tights. The look goes together well without being too matchy.


And this family chose whites and creams for their tops but chose one outfit with pants, one dress, and one skirt and top so there is still variety in the outfits. This combination looks great on them, and photographs so much better than if they had all 3 been wearing white shirts and jeans.



Another example of a family (mom, daughter, and grandma) in all white, but these outfits are different enough and have enough texture that the outfits work. Choosing just one color doesn't show as much individuality in the photos, but there is something so classic about all white, and I really do love the way it works here.



I love when people choose a statement piece with a bold pop of color! This magenta dress looks amazing on this mama to be, and the pop of color stands out beautifully against the green backdrop.



The neutral colors here blend well and look great, but the pop of red in the scarf really makes the outfits stand out.



This mom's pretty purple sweater stands out against the woodsy background, and it's a fun pop of color to add to the mix of neutrals her boys are wearing.



Another purple sweater that looks fantastic with the blues and browns in the rest of the outfits:


Another color that looks great in an outdoor setting is coral. This family did a great job tying in the plaid on dad's shirt with the pop of coral here.




I love how this mom coordinated her necklace with the little girl's dress to use coral as a fun pop of color with the navy and white color scheme.
Navy is always a popular choice and looks great on just about everybody! The photos below show how great navy looks with neutrals, greens, different shades of blue, etc.
Choosing a variety of brighter jewel tones also looks great, especially in spring and summer:





Pops of color work well with softer spring palettes, too. I love the mint green below in these pregnancy announcement photos, and the soft purples the little girls are wearing in the photos below.







Coral/pink and light blue make a great spring color palette as well:









Don't be afraid to mix patterns! Here is a great example of mixing floral and plaid, layering with the vest, and picking a pop of color (burgundy) and other neutrals. Their cute brown boots tie the outfits all together, too.




It's hard to match outfits for a family of 7, and this family did a great job of picking two main colors (black and burgundy) and choosing statement pieces (scarves, necklaces) and layering to add interest to the outfits. Everything ties together so well without being too matchy.



Still lost on what to wear? Maxi dresses look great on every body shape! If the dress is loose fitting, a cute belt can not only accent your body shape, but also can be super cute! Not a dress fan? Look for some great fitting jeans and a fun top! Collared shirts and polos look great on dads and little boys, and dresses or rompers are always adorable on little girls.
Still not sure if your outfit choices will photograph well? Take a picture and email me! I am more than happy to give input on what will look great in your photos.
Favorite places to shop:
Gap – I love Gap for classic children's clothes! They have great basics, and they frequently have 40% off sales!
Old Navy – Old Navy usually has a great selection of women's dresses and tops, and their prices are great.
H&M – HM has really inexpensive pieces that are adorable, and they have a great selection for little boys.
Zulily – If you are shopping a month or so in advance, Zulily has adorable children's clothing at sale prices, but their shipping times are slow.
Modcloth – I love their selection of women's dresses!